A.M.S.G. – THE PRINCIPLE OF EVIL BECOMES THE IDEAL OF THE PROMETHEAN MLP (Antitheist Disseminations / Iron Bonehead Productions)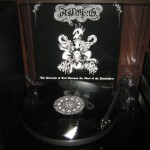 'The Principle Of Evil Becomes The Ideal Of The Promethean' may be only 21 minutes long but it packs quite the punch. Quite how A.M.S.G. manages to cram so much variety and homely familiarity into such a brief mini-album is beyond me, but suffice to say this is well worth the mere €12 it would set you back.
Canadian duo A.M.S.G. (which stands for Ad Majorem Dei Gloriam) originally released this work some two-and-a-half years hitherto but it has only just got the vinyl treatment, which provided me with an ideal excuse to grab a copy (MCDs just don't cut it and I missed the cassette version).
Over the course of three excellent statements of evil, nasty, horror-film-like, raw Black Metal – with samples aplenty (think Black Metal version of Encoffination's debut full-length) – we are treated to a truly horrific experience; creepy, varied, mid-paced music providing an ominous, deathly backdrop to some of the most foul vocals this side of good old Satan himself. The music on this EP simply reeks to the high heavens and is a fucking joy to behold.
A prime example of how to inject lashings of melody / atmosphere into your music and still sound EVIL. Watch out too for the debut full-length coming soon courtesy of Profound Lore Records.
Evilometer: 666/666