ACERBITAS – URKAOSETS SVARTA VREDESDOM MLP (Afgrundsvisioner / Ancient Records)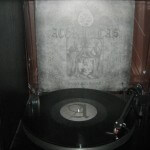 For a MLP, this is very generously endowed, clocking in at around 37 minutes (an intro, an outro and four songs proper). Recorded in 2009, 'Urkaosets Svarta Vredesdom' wasn't released on CD until 2011 and didn't see the light of day on vinyl until June of this year (due to "issues with previous labels").
It's been a long wait for those who knew the album was imminent (nobody, probably) but it has arguably been worth every minute because Acerbitas proves itself to be something really special on this debut release, written a whopping seven years ago.
'Urkaosets Svarta Vredesdom' comprises mid-paced, swirling, haunting Black Metal, a gradual maelstrom that slowly and deliberately wraps its tendrils around you, sucking you in, crushing the life from you and leaving you in a state of bliss (i.e. dead). Sir N. (also of Grav, Svartrit and Dödfödd, to name just a few) is the lone operator behind this project and he proves himself to be a very talented ghoul, with a real ear for conjuring just the right atmosphere of darkness and decay.
This is a very easy review to write. Great music that has been done justice by its vinyl incarnation, of the underground yet undeniably accessible, 'Urkaosets Svarta Vredesdom' is probably a record that all Black Metal fans should investigate. Shame the bonus track from the CD wasn't included on the record, though.
Evilometer: 555/666