AKASHAH – BARBAROUS (Cold Northern Blood)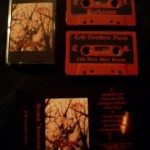 Akashah is a one-man pagan Black Metal entity from Illinois in the USA, fronted by Thuriaz, who unleashed his debut album on CD format four years ago. This is the limited edition cassette re-release of that recording – "Barbarous" – which has just been lovingly recreated by a fresh and vibrant new Canadian label, Cold Northern Blood. The red pro-cassette looks and sounds fantastic and – for just CAN$6 – is also an absolute steal.
I must admit I'd never heard these songs before, but I'm certainly glad "Barbarous" has been re-excavated because this is some cult USBM. It's more 'black' than 'pagan', thankfully, and it's all preserved in a harsh and raw shell, adding greatly to the underground authenticity of the music. While all the songs are creditable efforts, 'Hate Ritual', the closing track on Side A, was the first to really make me sit up and take notice. It's a versatile and ambitious tune that truly encapsulates what Akashah is all about – cold, melodic-yet-raw, mesmerising Black Metal art performed with no shortage of passion or skill.
Flipping the tape over, "A Cold Emotion" is more restrained, setting forth in a more atmospheric direction but all the time maintaining that edge that makes Thuriaz' music so compelling. From there to the finish, it's a captivating ride, with plenty of tempo changes and shifts in direction but too much clean vocals and synths for my own personal liking. These are not for me, but many of you will have no problem whatsoever – will probably enjoy them – and they are sparingly used, in any case. The impassioned, emotional penultimate offering "For Celtic Blood" is also worthy of special mention – a rip-roaring anthem fired by integrity, verve and pride. Enchanting, addictive stuff. And ambient instrumental closer "Bewitchment (Arya)" could command a place on any atmospheric Black Metal masterpiece.
Throughout, the ambient passages and the impressive interplay between the instruments, coupled with the use of varying vocal tones, combine to capture and hold the listener's attention for the full 51 minutes' duration. It's heartening to know that music as good as this can be acquired for so little. But move fast, there are only 100 units available and I suspect that a lot of them are gone already.
Evilometer: 555/666