ALTAR OF PLAGUES – MAMMAL 2LP (Back On Black)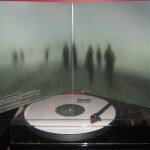 It's hard not to be tribal. As an Irishman, I always find myself looking out for good bands from my own country. Thus far, without much success, it must be said. Primordial were okay around the time of 'Imrana' and 'A Journey's End' and even 'Spirit The Earth Aflame' but they are rubbish now; Mourning Beloveth have recorded some great doom but consistency is a problem for them; but I'm glad Altar of Plagues have come along.
'White Tomb' was immense and the new album 'Mammal' is equally extraordinary. It really comes into its own on this 2 X 180g white vinyl edition, with one lengthy song on each side and the whole thing housed within a beautiful gatefold cover. This is the sort of music that was made for record, in my opinion, so I couldn't wait to get my hands on it.
I'll admit that AOP do push the boundaries somewhat in terms of whether or not it's Black Metal, but I'm willing to give them the much-coveted gerrobbo stamp of approval. It's not your usual, run-of-the-mill BM by any means but it's not dubious avant-garde, either. Reminds me of a blackened version of Isis, sort of. Excellently produced and wonderfully conceived, they shift between a range of moods and emotions, similar to L'Acephale.
The sound is huge and suffocating; drums rolling; vocals screaming and roaring, drowning guitars melodic mostly but also full of pathos and grief and anguish. The beautiful, overwhelming 'Neptune Is Dead' is very much the cream of the crop but 'All Life Converges To Some Centre' runs it close and 'When The Sun Drowns In The Ocean' is ancient and eerie and mysterious in a way that most bands can't fathom yet alone realise. Despite my genuine misgivings about all things plastichead (who answered a recent correspondence from this website in a wholly flippant, dismissive and condescending manner), this is an excellent vinyl release.
Evilometer: 555/666