ANTINOMIAN – NIHILUM INFANDUM LP (N:C:U)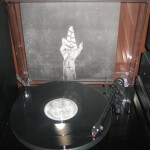 From the ashes of Subvertio Deus arises a fascinating new entity: Antinomian. Judging by the band's moniker and the heavily religion-and-theology-themed lyrical content, 'Nihilum Infandum' can probably be categorised as orthodox Black Metal (if I may be so cheeky as to apply a pigeon hole). Indeed, Antinomian does remind me a lot of Deathspell Omega – although not quite as mathematical.
There are three lengthy songs and one instrumental on this impressive debut full-length, comprising over 41 minutes in total of blazing, reasonably complex, intelligent, chaotic-yet-controlled and thoroughly enjoyable fare.
Attractive artwork and anti-colours adorn the cover and the inner sleeve as well as the tidy card containing lyrics. 'Nihilum Infandum' is certainly a cool-looking record and, more importantly, the music is also of stellar quality, easily setting Antinomian apart as one of the UK's premier Black Metal forces.
You couldn't possibly regret buying this underground gem.
Evilometer: 555/666