APTORIAN DEMON – LIBERTUS LP (Kyrck Productions / Apocalyptic Empire Records)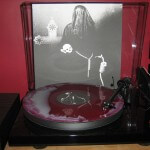 Aptorian Demon's debut album is phenomenal. I got the CD and record versions (purchased from World Terror Committee, in case you're interested) and it really comes into its own on record. Purple and silver marble edition, limited to 200, looking and sounding fantastic. Christ, there's even a poster included. Not sure why these posters are thrown in with records so frequently, actually. They just get left inside the sleeve for all eternity – might as well not be there at all… But, I digress.
There are six songs on this album spread out over 43 glorious minutes and it's without doubt one of the most sumptuous Black Metal journeys you are going to take this year – or any other. Even though 'Libertus' is their opening gambit, I would straight away elevate Aptorian Demon to the same league as stellar artists like The Ruins Of Beverast and Dødsengel in that their music is all-too-apparently special and inspired, keeping the black flame burning, ensuring that things stay fresh and dark yet delightfully tasty and tantalising.
Three of the songs – 'Amir Al-Mu`minin', 'Var Ære Er Troskap' and 'Ordets Makt' – are sort of conventionally-lengthed while 'Ignitus', 'Imprison' and the stunning 13-minute title track fall into the epic category. Throughout, AD's pacing is immaculate, their understanding of dynamic uncanny. Their ability to make the more melodic / atmospheric passages as essential as the aggression and insanity that laces their work is truly impressive. The result is a dark masterpiece. An exhibit of evil, foul music that defies parameters and pigeon-holing but is still black to the core.
I could probably write an essay about this album if I had the motivation to do so. But I don't. There's (just a little bit) more to life than sitting here by the keyboard talking to an audience that might not even be there. So, I'll conclude by stating categorically that 'Libertus' is one of the most essential Black Metal albums ever released. If anyone's listening.
Evilometer: 666/666