ARGANORK – DUSIOS (Ancestrale Production)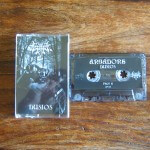 Arganork is the Black Metal face of schizophrenic French extreme metal merchant  Satyriasis Demonius von Nettesheim, also of Death Metal / grindcore entity Cosmoloco. I'm not at all familiar with Cosmoloco (sounds a bit too ambitious for my liking…) and probably never will be but 'Dusios' – released in 2010 – is an excellent piece of work. As good a BM demo as you're likely to hear.
Occult Black Metal with a ritualistic feel and a real ancient vibe, excellently performed by one man who uses traditional instruments and some beautiful ambient touches to create a dark but pleasant sound. For a demo, the production  is absolutely top notch and the musicianship as a whole – both in terms of conception and performance – is right up there with the very best European peddlers of blackness.
If you appreciate (mostly mid-paced) underground BM with a sinister current running through it, then you can't go wrong here. 'Dusios' is a wonderful release that gets the balance right between rawness and atmosphere and makes for an unexpectedly thrilling 37 minutes or so. I have no hesitation whatsoever in giving this tape a hearty seal of approval.
Evilometer: 555/666