ARS MACABRA – III (Odium Records)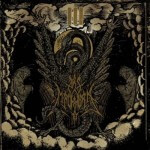 Excellent opener 'Cursed Paradigm' sets the tone for a monstrous third full-length from Ars Macabra, who demonstrate rather emphatically that Black Metal doesn't always have to descend into farce once melodic elements are incorporated into the equation. On 'III' the Italians churn out ten tracks of mid- to fast-paced, catchy occult blackness with hooks aplenty but also no shortage of venom.
The production is perfect and the expertly-composed and –executed songs stand out like a black eye on a priest, conspicuous is both their malevolence and their twisted beauty. A fine balance between aggression and harmony allows Ars Macabra to remain both intense and captivating at the same time, while the album rarely becomes tedious even though it lasts for over 50 minutes.
From the line-up that recorded the last full-length six years ago, only guitarist Sathor remains. So in essence, this is practically a new band masquerading under the old name. (In fact, it's the same personnel who recorded this split, but with the addition of drummer Atum, who sits in the Setherial stool on live missions.) And they have certainly hit the ground running here…
This is an album worth checking out and I believe Ars Macabra could become a force in the Black Metal underground if they can keep this line-up together.
Evilometer: 555/666