ARS MACABRA / COSMIC EKPYROSIS – NIL SINE DEO (Grom Records)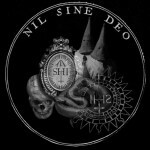 This split CD brings together two underground Black Metal hordes to which I had no previous exposure, so for that reason alone it represents a worthwhile investment. The fact that the quality of music on the disc is of an extremely high standard is a more-than-pleasant bonus!
Italians Ars Macabra kick the show off with three tracks totalling around 17 minutes. Not a lot to get one's teeth into, granted, but enough to assure me that the next full-length from this trio will be well worth a listen… From the opening moments of 'Manifestation Of The Curse' I knew this was going to be decent. And we get a foul blast of ghastly, brash BM with abrasive vocals and caustic chords, all laced with a subtle hint of melody. Ars Macabra is an impressive band and they leave a lot of their more-established peers in the shade. I'll have to delve into their back catalogue a little bit.
The second part of the CD belongs to Cosmic Ekpyrosis (great name) from the Greek capital and this is their first involvement on an official release, showcasing the four offerings off their 2010 demo, 'Eliminate The Traces Of Reality'. Again, there's an awful lot here to like. After a brief intro, the eponymous 'Cosmic Ekpyrosis' demonstrates that this mysterious entity can emit some scathing, foul blackness. Plenty of melody in the mix but it's tempered by sheets of aggression and an almost deathly vibe that reminds me of Gorguts. But this is BM all the way.
The tempo never reaches ridiculous levels but the mood remains heavy and morbid for the duration of this commendable split album. Closer 'The Devilish Angel' – the slowest track – is arguably the strongest. It sounds exactly like somebody else but my weary mind can't work it out at this late hour. As a short taster of what these two Black Metal acts from the macabre banks of the heaving Mediterranean can do, 'Nil Sine Deo' serves as a meaningful line in the sands of time.
Evilometer: 444/666