ASH BORER – 2009 DEMO LP (Vendetta Records)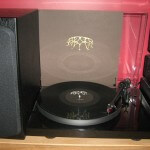 Okay – I realise it's only got two songs and I know it's only 25 minutes long (nearly) but I still couldn't resist the temptation of snapping up this demo of three years hence once I heard it was available in the glorious vinyl format. Hats off to German label Vendetta for making it happen! Ash Borer is one of the more-interesting bands in the global Black Metal pool at the moment – their split with Fell Voices and debut (self-titled) LP being mandatory – so it was intriguing to take a listen back to their embryonic stirrings.
First off, this sounds like a demo, quite trebly and wobbly at times. Having said that, the production is still pretty damned decent and the melodic parts are crisp, clear and concise. Side A comprises 'Drukne', which ranges between harsh and mellow passages, a beautiful helping of prime AB which is easily as good as most of what you'll hear on a proper album this or any other year.
On Side B, we have 'Untitled'. Fucking unreal really how many bands are coming up with untitled songs and albums these days. Seems to be the trendy thing. How long before we have an untitled person? Anyway, the song with no name outstrips most nameless, faceless entities I've encountered in my lifetime and completes a really, really fine record that sounds to my ears like an improved (i.e. more stripped-down) version of WITTR.
This isn't overly-expensive to buy, either, and it looks nice in its one-sheet folding jacket. So, all in all, a worthy investment for sure.
Evilometer: 555/666