AZAZEL / GOATMOON – SPLIT LP (Werewolf Records)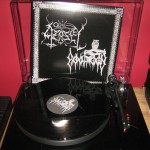 I knew this all-Finnish collaboration was going to be something special so I just had to buy it. The main reason I parted with my hard-earned cash was to get a listen to the Goatmoon tracks, as their contribution to the 'Winterforest' split LP with Dead Reptile Shrine pretty much blew me away, but I'm pleasantly surprised to report that Azazel actually steals the show on this release.
That's not to say Goatmoon doesn't deliver because we are served up some wonderful true Nordic BM done in the ancient style. After the disappointing opener 'BlackMetal Winter', which is cornier than an old hag's foot and cheesier than a scrap in Pizza Hut, BlackGoat and co. get into their stride in irresistible manner, fashioning some stellar Black Metal magick, no more so than on the super 'BlackGoatWorship' – an exhibit of prime underground black majesty – and the stunning closing track 'Fourth Reich'. These Goatmoon tracks were recorded last summer and there's enough on here to whet my appetite for the just-released full-length, 'Varjot'.
On the flip side of the record comes four tracks from the relatively-unknown Azazel, which were recorded three years ago. 'Praise Hail Satan' is all murky noise and evil feedback, while 'Rebellious Angels' is a grimy, filthy slab of coarse, ugly, raw and primitive Black Metal – like a BM version of Napalm Death, maybe. 'Evil Spells From The Black Gods' is a bold title but it walks the walk –  a thundering piece of unprocessed, uncomplicated Black Metal spewed out with utter contempt – before 'Werewolf Howling' completes Azazel's magnificent contribution in soaring, barrel-chested fashion. Brilliant stuff. You'd be mad not to hunt this down.
Evilometer: 555/666