BEKËTH NEXËHMÜ – DE DUNKLA HERRARNA LP (Ancient Records)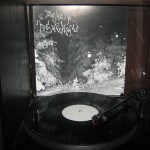 This rather amazing record was released over a year ago, but somehow it slipped right under my radar. I've luckily managed to get my hands on a copy this week and I've been listening to 'De Dunkla Herrarna' around the clock since the bountiful parcel arrived. To say that Bekëth Nexëhmü's debut full-length is stunning would be an exercise in understatement..
'De Dunkla Herrarna' is actually classified as a Demo LP (???) but to be honest it is vastly superior to pretty much everything else I've been listening to lately. The album was recorded in just five days in February 2010 and comprises over 47 minutes of majestic, chilly, atmospheric Black Metal. There's a lot of melody at work and blastbeats are totally eschewed in favour of slow- to mid-paced observations backboned by drums that genuinely sound like they were recorded in an ice cave.
The record itself keeps the DIY aesthetic of the underground alive as there's no actual jacket, just a front and back 12" x 12" card and there's a lyric sheet included but that's gobbledegook to me. This record is mysterious, authentic, ancient yet ageless cold, cold, cold BM magic from the darkest shores of Sweden. If you don't somehow get your hands on one of the 250 copies pressed, your life will be forever incomplete.
Evilometer: 666/666