BLACK ALTAR – DEATH FANATICISM LP (Antichristian Front Records)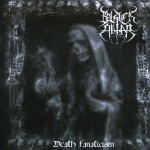 Black Altar is probably the most criminally-underrated Black Metal artist around. The Polish entity has barely put a hoof wrong throughout his career and 'Death Fanaticism' – which originally saw the darkness of night on CD three years ago – really comes into its own in glorious vinyl format. Quite simply, this is one of the most essential records I've bought this year. If you enjoy great BM with an evil, eerie vibe, then you can't go wrong with this 54-minute slab of malevolence.
A luxurious gatefold LP edition affords the album a new lease of life, with larger artwork than a measly CD and lyrics etc. included on the inner-fold section. But it's the mind-blowing, horrific music that takes centre stage. For me, Black Altar captures the essence of pure evil in his music, a feat that so many other bands fail miserably to accomplish. He just possesses that something extra, a special ingredient, an innately-base sound that elevates his musick above the norm.
Unimaginative band name aside, Black Altar ticks all the boxes. Assisted by a slew of session musicians, sole member Shadow ploughs through nine tracks of infectious Black Metal, effortlessly switching between all out aggression and dark ambience as well as touching on everything in between. There's a keen sense of melody snaking through the album, tying everything together seamlessly, and the production is everything you'd expect from an awesome underground release.
I don't possess the adjectives or superlatives to do this one justice. Maybe I'm all written out. But suffice to say 'Death Fanaticism' is one of the most potent, relevant, mandatory chunks of atmospheric, raw Black Metal you've ever going to hear. Buy it on vinyl; it's a decision you'll never regret.
Evilometer: 666/666