BLACK ALTAR / VARATHRON / THORNSPAWN – SPLIT LP (Floga Records / Hell's Fire Records)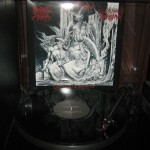 The actual title of this three-way split album is 'Emissaries Of The Darkened Call – Three Nails In The Coffin Of Humanity' but it would have been extremely untidy-looking if I'd tried to cram that mouthful into the headline space above. I've called it 'Split LP' for convenience sake only. Except the more I explain it, the less convenient it becomes…
Criminally-underrated Polish one-man band Black Altar gets us up and running with an Intro and three typically-excellent consignments of misanthropic Black Metal, the highlight of which is the stylish and unforgiving 'Deep Cut Into The Open Wound Of Mankind'. All Shadow's contributions on here are superb, though, and the album is arguably worth acquiring for these alone (Note: this record is far from expensive).
Varathron is a band I've tended to avoid as I'm not a massive fan of the Greeks' über-melodic, Iron Maiden-y strain of BM. However, I must confess that their songs on this split are quite impressive, especially 'Arawn's Reign', which closes Side A.
To Varathron also falls the honour of delivering the first two cuts on Side B, including a surprisingly-decent Black Sabbath cover, and satanic US trio Thornspawn play ferrymen for the return leg of the journey with four short, sharp jabs to the face. Nothing complicated about Thornspawn's take on good old-fashioned, NWN-style, bestial blasphemy.
All in all, three distinct bands on exhibit here and each coughs up some worthwhile material to constitute a very successful and commendable collaboration, with gatefold jacket, liner notes and full lyrics all chipped in as part of the pact.
Evilometer: 555/666