BLACK VUL DESTRUKTOR – BEYOND TIME AND PORTALS OF DEATH LP (Blood Harvest)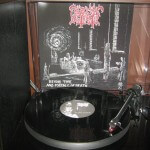 'Beyond Time And Portals Of Death' brings together the tracks from Black Vul Destruktor's 2008 demo ('Volition+Invocation+Destruction') and 2012 EP ('Bestial Obscure Metal Kaos') on one limited-edition 12" vinyl. For those who possess a turntable, purchasing this represents a convenient way of catching up on the Argentinians' entire back catalogue in one fell swoop.
I would describe BVD's music as primal and intense bestial Black / Death with some slight tribal undertones. There is a distinct South American vibe to proceedings, which reminds me of those great days when extreme metal was just starting to rear its ugly head. While I'd classify 'Beyond Time And Portals Of Death' more as Death Metal than Black Metal, there's certainly plenty of variety and versatility here to please fans of both subgenres.
Don't be fooled by my use of the word 'variety', though. For the most part – notwithstanding occasional soothing interludes – this record just rips along with fierce, venomous intent. It reminds me a lot of somebody else but I can't for the life of me figure out who – fucking hate when that happens!
The production is surprisingly great and Blood Harvest has done the band justice with a professional vinyl presentation, including 12"x12" inlay with all lyrics included. This record just oozes classic, old-school underground appeal. If you want to try out some exotic Black / Death from the swamps / jungle of South America, look no further.
Evilometer: 555/666