BRIARGH / XERION / SENTIMEN BELTZA / DOOM OF VALYRIA – PAGAN SPIRIT (Azermedoth Records)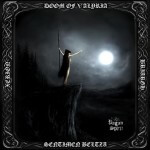 Obviously, I purchased this four-way split CD due to the involvement of the excellent Sentimen Beltza, who contribute three examples of their superb, ancient, atmospheric Black Metal. Rarely does this Basque one-man army disappoint!
There are also three songs from each of the other bands and here comes the rub: one of them is simply not worthy of its place in such esteemed company.
Briargh are decent and I enjoyed their tunes; Xerión's three tracks are also commendable; but Doom of Valyria is like a bad joke and their lame, female-fronted folk music is so bad that it made me want to break the CD in half. Amazing how one rubbish band can drag the others down.
Some enjoyable music on here (the first nine songs are very good) but, alas, the involvement of one dud wrecks the whole album. It's hard not to take offence. I wish I never bought this.
Evilometer: 222/666