CÉNOTAPHE – MONTE VERITÀ LP (Nuclear War Now! Productions)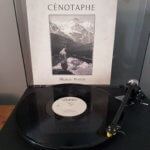 On their spine-tingling, triumphant debut full-length, Cénotaphe build upon the brilliance displayed across their exceptional MLPs 'Horizons' and 'Empyrée' as well as the famed demo 'La Larve Exulte' and their split with Circle Of Ouroborus to produce a record the French duo can be rightly proud of. Both former members of Nécropole, Fog and Khaosgott are vastly experienced veterans of the French Black Metal underground, boasting conspiracy with a whole host of acts past and present. This accumulated experience shows to devastating effect on 'Monte Verità', which is as competent a debut as you are likely to hear.
Raw and traditional Black Metal flows with passion through the speakers, a keen sense of melody always evident. But this is not boring, wishy-washy melodic Black Metal by any stretch of the imagination. It's more ambient, with a lush, medieval, folkish feel, telling stories of ancient woodlands and naked nature in all its pagan, resplendent glory. The vocals are charged with pained passion, angst and longing, Cénotaphe's dedication to their art conspicuously to the fore as they ease through 46 beautifully-crafted minutes of emotional despondency; bleak majesty.
Use of the French tongue renders the songs magical and mysterious, guitars scorching and spiralling, drums pounding and shape-shifting like the merciless sands of time as the universe falls apart at the seams, the folly of man making a fuck of everything, the tale being told one of tragedy and beauty
A clear production elevates the level of raw emotion on display, yet Cénotaphe skilfully, doggedly hold onto their vital, essential rawness to ensure that their music is worthy of a place in the darkest depths of the underground. At times, there is a punky edge to proceedings, almost like Akitsa, 'Monte Verità' never forsaking its glorious, proud and patriotic personality as it soars, glides, rises defiantly and reaches heroically – beaten but unbowed – to the stars above.
Evilometer: 666/666