COBALT – GIN 2LP (Profound Lore Records)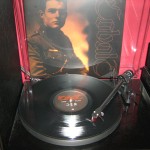 Since it first arrived three years ago, "Gin" has been one of my favourite Black Metal albums of all time. Quite simply, I can't get enough of it. The wait for a vinyl edition has been much longer than I'd have liked but at least the label has compensated for the delay by delivering the goods on all fronts – two heavy records, strong gatefold sleeve, lyric sheet included – so I feel like all my Christmases have come at once.
In many respects, Cobalt are without equal. They meld together some pretty harsh and dissonant 'war' BM with healthy doses of melodic sensitivity, producing a result that comes across like a blackened version of Neurosis or even Machine Head. But don't let that put you off!!! As I write this, I'm digging some nice tribal drumming midway through the incredible 'Two-Thumbed Fist', the epic track that takes up most of Side C.
But, all the songs on this album are superb, in fairness. I think it's fairly limited (too lazy to check) and I also know only too painfully that this is a pricey beast to acquire once you take shipping into consideration – especially to Europe. I got my copy from The End Records and it wasn't too bad … EUR33 … and definitely worth every red cent.
I can't recommend this work of art highly enough.
Evilometer: 666/666