CRIPTA OCULTA – RIOS QUE CORRERAM… RIOS QUE SECARUM (A.M.F.)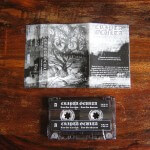 I'm really (pleasantly) surprised that Cripta Oculta's third full-length is only available on tape. On the strength of 'Sangue do Novo Amanhecer' and 'Ecos dos Dólmens Esquecidos', I assumed the Portuguese nationalistic black-folk parasites would be in big demand. Perhaps they are; maybe they are deliberately keeping it underground. If so, that's quite cool and commendable. Either way, this is a mandatory acquisition and one that certainly won't cost you an arm and a leg.
You see, A.M.F. label chief Alex doesn't accept cash for any of his releases. Instead, he deals in trades only. The good old-fashioned barter is hard to beat in these times of economic woe (not that I ever liked spending money to begin with). So I tapped Alex up for five tapes and they duly arrived from Bulgaria in tip-top shape. 'Rios Que Correram… Rios Que Secaram' is arguably the pick of them – an exceptional slab of Lusitanian pride, spread out over 41 enchanting minutes. It's truly excellent stuff.
After the brief and enjoyable intro, we essentially have four superb ten-minute anthems. 'Acendam Se… Oh Chamas Da Serpente' sets the scene with some fierce aggression tempered by subtle instrumentation, a true demonstration of Cripta Oculta's esoteric leanings. The music is proud, pagan-y BM, with a very ropey production, offering a rawness to proceedings and ensuring a genuine underground vibe.
'Ferro Forjado Com Sangue' is about blood, I'm sure, and it's bloody brilliant – hypnotic, repetitive, ambitious, adventurous, amalgamating raw Black Metal with nature's mysticism in a manner that reminds me of the glory days of Slavonic BM. An atmosphere of grandeur and pride pervades every note and it's clear that Cripta Oculta respect the sacrifices of their ancestors and are up for the battle themselves if the call to arms should be issued forth.
There is so much atmosphere, passion and emotion in 'Um Julgamento De Fogo' that it will bring tears to your eyes and a smile to your lips. And the title track itself is nothing short of magnificent, a slow-to-mid-paced voyage into the very vein of aggressive Folk Black Metal's essence. Granted, it can sound a little bit corny at times but in this instance I don't care. I just love this release.
Evilometer: 555/666