DØDSENGEL – IMPERATOR (Terratur Possessions / Barghest)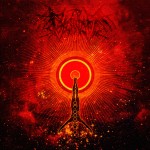 It's a great honour for this website to exclusively reveal that Dødsengel are about to release an astonishing new double album entitled 'Imperator'. Comprising a staggering 22 songs stretched out over two-and-a-half hours, this has to be one of the best surprises I've ever had. My love of this band is no secret but I feel foolish now for criticising them for releasing a mere EP last time out – little did I know that something as substantial as the utterly incredible 'Imperator' was in the works!
From the opening strains of 'XXV' it is clear that this double-helping represents the inimitable Norwegians at their magnificent best – easily on a par with this – and the journey is a true joy to behold as we are escorted through astonishing works of Black Metal madness such as 'Sun On Earth', 'Σειρῆνες' 'No Beginning, No End', 'Momentum: On The Devil And Death' and the captivating, mesmeric 'Holy Metamorphosis' – an unhallowed anthem that showcases the immense dynamic and class of Dødsengel, who remain compelling no matter what pace they play at.
And that's just a quarter of the album! There is no let-up as an avalanche of ugly, beautiful, harsh, melodic, eerie, mellow, intense, multifaceted art gushes forth like so much blood from an open vein.
I'm not overly keen on the female vocals that accompany Kark's on 'Apoph-Ra' (and again later in the album) but even I must admit that they do fit the bizarre, twisted, swirling chords extremely well. It would be churlish of me to slam a moment that's more Jarboe than WITTR, especially considering the sheer depth and magnitude of this release, which needs to be consumed and appreciated as a whole. Within the overall context of the music, 'Apoph-Ra' remains essential and vital. Indeed, there is no dud track to be found anywhere here – although I do prefer some to others.
As the album continues to reveal itself, exposing a myriad of faces and personæ, visiting multiple moods and mindsets, ebbing and flowing like a schizophrenic behemoth, from the orchestra brilliance of 'Pneuma' to the dark chaos of the raven-like 'Hymn To Pan', the insanity of 'Upon The Beast She Rideth' and the psychological pandemonium of 'The Supreme Ritual', it is all-too-apparent that we are in the company of greatness.
In terms of scope, vision and ambition, 'Imperator' possesses all the ingredients required to become one of the great Black Metal releases. Dødsengel have outdone themselves here. Hopefully this double album will receive the credit and attention it richly deserves. If not, it will still bring copious amounts of satisfaction to those lucky enough to stumble upon it. Mark this one down on your Things To Do list immediately.
Evilometer: 666/666