DARK SONORITY – KAOSREKVIEM EP (Terratur Possessions)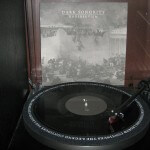 Dark Sonority is ostensibly a continuation of Kaosritual post-Mehimoloth (A.K.A. Steingrim Torson), who is of course dead. While the band name has changed and unfortunately Steingrim no longer walks amongst us, the music is every bit as wondrous as anyone fortunate enough to have encountered the superb 'Svøpt Morgenrød' would expect. This is available on either 10" vinyl or CD; the digital version is a total waste of money.
I'm going to do a bit of name-dropping to give you an idea of what you're dealing with here. Bassist W. (A.K.A. Luctus) is also a member of Behexen, Aptorian Demon, Mare and One Tail, One Head; drummer HBM .:.Ae.:. B.: (A.K.A. Azazil) perfotms in Black Majesty, Mare and Vemod; while both of them used to be in Celestial Bloodshed. As well as Kaosritual, of course.
The only problem with the vinyl edition of 'Kaosrekviem' is that it doesn't represent great value for money as we only get 24 minutes of music, comprising just three originals plus a cover of Bathory's 'Call From The Grave'. Just three new songs, then, and this EP will set you back practically the same amount of cash as a full-length LP, so straight away there is a sense of being short-changed.
The label and the band will argue that, as this is a cult release, you are in fact getting a bargain and should consider yourself fortunate to have the opportunity of acquiring such a supreme piece of Black Metal art. And, to be fair, they would have a strong case in this regard. The music on this record is of truly stunning quality – sinister, emotional, authentic Norwegian(-ish; one Swede involved…) Black Metal of the very highest calibre.
Everything about the record is top notch – the lay-out, presentation, content, production, colours, design, art work, etc., etc., etc. With lyrics included on the inner sleeve, no stone has been left unturned to bump up the quality quotient perhaps to atone for the quantity shortfall. However,I'm not mad about the Bathory cover and it's also a shame that we're only getting an EP rather than a proper album. But we can await that one with bated breath…
In the meantime, 'Kaosrekviem' is highly interesting.
Evilometer: 555/666