DARKEST GROVE – COMING OF 2012 (Forever Plagued Records)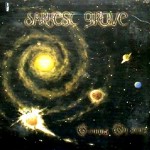 I bought this because it was cheap and also because it has been released by a reputable label, whose quality I trust in. In fact, I'm pretty sure that Devoid Being – the soul behind this esoteric entity – is also the guy who runs Forever Plagued, but that's not really relevant to this review. What matters is the quality of the music and, well, it's a bit of a cracker…
A copy of DG's debut album 'Pain And Suffering Shall Be Known' nestles in my collection but I haven't listened to it in years (and cannot remember what it sounds like, doh) so I went into this sophomore release blindly. I didn't know what to expect and, truthfully, nothing could have braced me for the madness to come.
To say that Darkest Grove delivers atypical Black Metal is an exercise in understatement. This digi CD is unlike any other BM artists I've heard and at times I feel more like I'm listening to Death Metal (or Grind) than Black Metal. The harsh vocals – original and organic – transcend both subgenres and are truly natural in their fierceness, never trying to be either one thing or the other.
The music is like a complex tapestry of aggression, complementing a philosophical journey into dementia with loads of melody, no end of intrigue and seemingly endless mysteries contained within. Most of the intensity is loaded towards the first half of the album, which means there is a measure of calm after the storm. But you will remain on edge throughout the 62 minutes; 'Coming Of 2012' is never easy-going or soothing (though the seventh track, the 25-minute 'Return Of The Moonchildren', is epic, beautiful and uplifting).
To summarise: this is a really, really good and original (Black) Metal album with few or no peers.
Evilometer: 666/666