DEATHSPELL OMEGA – DROUGHT MLP (Norma Evangelium Diaboli)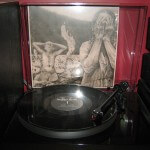 Generally speaking, I don't place much stock in EPs or mini-albums due to the disappointing disparity between the paltry amount of music and the still-considerable price of admission. A typical MLP costs almost as much as a full-length but is perhaps half as long – poor value in any man's language. On the other hand, we are kind of railroaded into purchasing these stopgap releases as, well, how else do we get to own the new tracks? And, in fairness, many EPs are really good…
In the case of Deathspell Omega, their latest MLP comprises six new songs (including the obligatory intro and outro) spread over the course of 21 magical minutes. When the fare is as fantastic as this, it's difficult to be critical. The band could easily have slowed things down a bit and made this release a little longer but instead they go hell for leather, tearing through the songs at breakneck speed but still infusing plenty of trademark DsO technicality into the mix.
The record comes with a great cover and an inlay with the lyrics included and, for obvious reasons, represents a much better buy than the CD version. Including postage, it will set you back almost the same as an album proper, but this is definitely one instance where quality reigns over quantity (though, obviously, I crave more). Deathspell Omega are on fire on this mini album and I have no hesitation in declaring that 'Drought' is as intense, complete and well-rounded as most full-length albums.
Superb stuff. Try not to let the length (or lack of it) put you off – just listen to the record twice each time you take it out!
Evilometer: 666/666