DECOHERENCE – UNITARITY LP (Sentient Ruin Laboratories)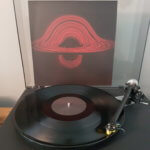 From the deepest, darkest depths of the unknown cosmos, Decoherence propel forth their second full-length strike of annihilating, terrifying cosmological Black Metal horror. Only a year on from their outstanding 2019 debut, 'Ekpyrosis', the UK trio display once more on their latest celestial journey through the infinity of time and space an uncanny ability to invoke horror and wonder in equal doses
Merging Black Metal and industrial noise in a similar manner to mid-career Blut Aus Nord, Decoherence skilfully convey the vastness and potential dangers of an undiscovered, indefinite and immense multiverse into three-quarters-of-an-hour of compelling, chaotic, dissonant disorder, the mid-paced, considered delivery rendering each of the six lengthy deliberations all the more effective, eeriness and intrigue omnipresent throughout the duration of 'Unitarity'.
Clocked at close to ten minutes, the third conformation, 'Metastable Phase Transition', is a radiant behemoth of intangible, inert intergalactic splendour, while 'Torsion Formed' twists and contorts wormhole-like, forcing its way into the subconscious, an alien invader of dubious repute, Altarage-like parting shot 'Unitarity Violation' simply irresistible. Sparse deployment of ambience only adds to the unease, an unsettling and unimaginable nightmare unfolding.
There's something astonishingly ominous about 'Unitarity'. It's much darker than Darkspace, more convoluted than Almyrkvi and denser than Voidsphere, yet elements of all of these can be detected in the fragmented, distant murk. What sets Decoherence apart from many others is their ability to capture a mood of genuine isolation, uncertainty, fear and mystery, a sense that something terrible might lurk in the sidereal beyond. Yet it's fascinating and we want to see it, to touch it, to be consumed by it.
Evilometer: 666/666