DEFUNTOS – RESTOS DE UMA VIDA ANTIGA (Cocainacopia)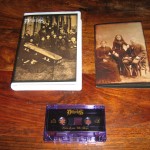 Surely one the most-underrated Black Metal bands of all time, Defuntos have been releasing all manner of magnificence for the past five years, including five superb full-length albums, a couple of neat 7" EPs, some splits and a few demos.  'Restos De Uma Vida Antiga' is a demo cassette of the quality of a non-demo recording, which was unleashed last year; I have no idea what the limitation of this is but I'm pretty certain it's going to be quite difficult to acquire. Had to jump through a hoop or two myself, but it was worth the effort.
Cocainacopia have done a fabulous job with this special edition cassette release. The blue chrome cassette is cased within a cool box with booklet and lyrics included, not to mention some typical fading-brown Defuntos artwork centred around themes of the past and, well, death. Ancient times and death – that's what Defuntos is all about in a nutshell.
The truly astonishing thing about the music made by these Portuguese brothers is that they only use drums, bass and vocals (and organ only on the last tune here: 'A Desgraçada Vindoura') – from which is conjured a genuinely dark and disturbing mood. Quite a trick. The two tracks proper on this demo are bleak and downbeat; the instrumentals that bookend them sombre and sorrowful. I would thoroughly recommend tracking down every release these guys have put their name to but 'Restos De Uma Vida Antiga' would be as good a place to start as any seeing as it's such a well-presented and fine-looking piece of poignancy.
Evilometer: 666/666