DEFUNTOS – SANGUE MORTO LP (Bubonic Productions)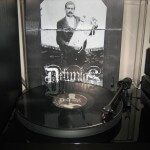 The Portuguese brotherhood of Defuntos first crossed my ears with the release of this very album on CD five years ago and they have since remained one of my all-time favourite bands. When I heard that Bubonic / Discipline was unleashing the first two albums – this and 'A Negra Vastidão Das Nossas Almas' in limited vinyl format I simply had to get in on the action…
For those of you who don't already know, Defuntos play a unique breed of Black Metal that contains a strong dollop of doom contained within a fetid recipe of bass, drums and vocals. No lead guitars to be found on here and it's all the gloomier for it. Despite the strangeness of their approach, these guys are anything but a gimmick or novelty act. They are truly superb and, for me, 'Sangue Morto' remains their crowning achievement. To date.
A thoroughly fantastic debut album, this is sorrowful, morose, eerie, spectral, depressing black doom that will make your blood freeze. The artwork etc. adds to the sense of despair and use of the native tongue has never been more effective. If you buy this, you will get a personalised copy complete with you name engraved on the sleeve and, trust me, you will not regret parting with your cash.
Lo-fi, rarely-produced and – frankly – shitty-sounding at times, this is surreal underground art and not to be missed.
Evilometer: 666/666