DEFUNTOS – VIDAS VAZIAS… ALMAS PERDIDAS LP (Bubonic Productions)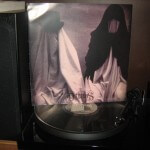 'Vidas Vazias… Almas Perdidas…' is the sixth full-length from Portuguese siblings Defuntos, who have been enchanting me with their odes to death and bereavement since 2006. I've bought every Defuntos release to date and they are almost invariably brilliant, with just the occasional wobble. This latest album is presented in vinyl format by Bubonic, limited to 200 units, each of which is dedicated to the owner (take that, you speculating Discogs-using leeches!).
It's nice having my name written on the fold-over, decidedly-underground paper cover. This adds something extra to the relationship between owner and record. As ever, the artwork is creepy and disturbing, complementing the music perfectly. All the lyrics are included (but this is of little benefit to me as I don't know any Portuguese – I even had to Google-translate the album title: 'Empty Lives… Lost Souls…'). Still, cool to have them.
Music-wise, this is not Defuntos' best album. Though proceedings start encouragingly with a haunting intro and majestic, mournful opening track proper, I found it gradually became laboured and monotonous compared to their previous full-lengths. By comparison, 'Vidas Vazias… Almas Perdidas…' seems to plod along and there's little or no variation. Does this expose a limitation in what Defuntos are trying to do? Then again, I suspect the overwhelming dullness is deliberate and that the band has set out to create their most morbid and depressing work to date. If so, they have succeeded. This is very dreary, very depressing, very downbeat.
All in all, this is another triumph for Defuntos' unique strain of drum-and-bass, doom-infused Black Metal, even if it falls somewhat short of the quality to be found on this, this or this.
Evilometer:444/666