DESOLATE SHRINE – THE SANCTUM OF HUMAN DARKNESS 2LP (Dark Descent Records)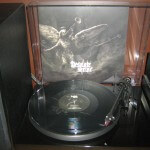 I've been really enjoying my Death Metal recently so I decided to give this sophomore album from Finnish band Desolate Shrine a go (once I discovered that it was available in glorious double-vinyl format). As I had a good feeling about this full-length, I purchased it blind / deaf, without listening to any of the music first, trusting my gut instinct. My faith has not been rewarded.
First off, let me say that the presentation from Dark Descent is exceptional – gatefold cover with superb artwork and lyrics, two fine records (though not 180g) which revolve at 45rpm rather than the conventional 33 (not sure why), and a poster (yippee!).
The eight songs spread evenly across the LPs simply aren't reeling me in the way I hoped they would. I've given 'The Sanctum Of Human Darkness' plenty of listens at this stage – and even took a break from it to revisit with a fresh outlook, convinced that I was missing something – but I don't think this album's particularly great, or even good at all.
I was expecting something dark and sinister but really – though perhaps unconventional in a minute way – Desolate Shrine's second album is just slow, melodic Death Metal that's never invigorating and ultimately as dull as Swallow The Sun. Disappointing.
Evilometer: 222/666