ENDSTILLE – INFEKTION 1813 LP (Season Of Mist)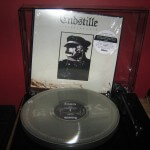 Not a band I've followed with great interest, to be honest. Was always put off by the imagery; I'm not a big fan of panzer / blitzkrieg style Black Metal, so Endstille have always been kept at arm's length. Until now. I decided to give the new LP a try – on a whim, more than anything – and it's a decision I'm pleased with. I bought the coloured vinyl, which is sort of transparent more than colour, but who really cares about such technicalities?
The lyrical themes are pretty much the same as always but the Germans' seventh full-length album is greatly enhanced by the presence of Zingultus behind the mike. This singer has performed with some of my favourite German BM acts over the years (Graupel, Nagelfar…) and – without being in any way disrespectful to his predecessor – he delivers a suitably superb performance on 'Infektion 1813', tearing through the full gamut of rasps and roars. There are some nice chants too on tracks like 'Bloody H' and 'The Deepest Place On Earth', which add to the melodiousness and catchiness of the LP (no harm as a counterpoint to the harsher parts as long as it isn't overdone).
That's not to say that Endstille have lost much of their aggressive edge. While they have toned the violence down and become a little more diverse, they're still heavy as hell itself and I think this collection of BM tunes should appeal to those, for example, who appreciate the newer Marduk material. Personally, I believe Marduk have improved immeasurably since Mortuus joined their ranks (all of seven years ago! Hard to believe…) and I would draw a parallel between that and what is happening with Endstille.
Endstille have matured, but not in a bad way. But there is still room for further improvement. I see this album as a bridge. It's a first step in a new direction. It's a good LP but, in honesty, not a great one. It tends to get bogged down and monotonous at times and it doesn't hold my interest from start to finish. Having said that, 'World Aflame' and 'Wrecked' are two of the best songs I've heard this year. The magnificent, mid-paced ten-minute closing track 'Endstille (Völkerschlächter)' is even better.
Therefore, I'd still insist that 'Infektion 1813' is better than 90% of the shit out there and the record version is a must-own. The follow-up will be interesting. With more conviction in what they're doing and perhaps better use of Zingultus' voice, this line-up could produce a masterpiece a la 'Andacht'. This one is close but doesn't quite get there.
Evilometer: 444/666