ETERNITY – PESTIFEROUS HYMNS – REV. I-I-XXXIII (World Terror Committee)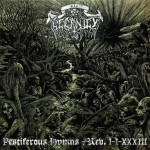 I find that my reviews are becoming shorter and shorter. In my defence, what of true value to the reader can one really say about a Black Metal album other than that it's excellent (666 on my Evilometer), very good (555), fine (444), average (333), bland (222) , rubbish (111) or not even worthy of words (000)? Hell, now you know how I determine my scores…
Generally, I only review albums that I really enjoy, so I could practically write the same thing about all of these. But who the fuck in their right mind would want to read that? I bet most of you just skip straight to the mark at the bottom anyway! 'Pestiferous Hymns – Rev. I-I-XXXIII' is the third full-length from stellar German horde Eternity and – as you've probably already gleaned courtesy of a sneaky glance below – it's every bit as brilliant as their previous two.
This is a band that Black Metal aficionados hold in high regard for very obvious reasons. Even though they are far from original or inimitable, they are a class apart when it comes to delivering good, solid, old-fashioned, Satan-worshipping, devil-may-care, from-the-gut, passionate, honest-as-the-night-is-long, balls-to-the-wall BM. Holf fuck – I've just come up with a new line.
Regardless of my own Bukowski-like compositional struggles, rest assured that this is a magnificent slab of atmospheric yet grim Black Metal majesty, the kind that comes around all too seldom. Roll on the vinyl edition!
Evilometer: 666/666