FELL VOICES – REGNUM SATURNI 2LP (Vendetta Records)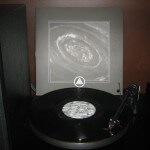 This is something of a landmark release for Fell Voices as it's the first one they've bothered to christen with an actual title. Their previous two full-lengths were self-titled and 'Untitled', while their 2008 'Demo' and subsequent split with Ash Borer also carried no actual handle, as such.
'Regnum Saturni' showcases Fell Voices' first new recordings in three years and is their first release to boast more than two songs. The three tracks on this album add up to almost 61 minutes so it would clearly be churlish of me to point out that there is nothing but a worthless etching on Side D. Except I just did. One of my pet hates, that, even if it is sometimes unavoidable.
I've been championing these guys for so long that I almost forgot how essentially underground they are. When I first started to listen to opening gambit 'Flesh From Bone', I was utterly taken aback by the dull, dense sound and the fact that the music was refusing to reveal itself fully to me. It's not as instantly-catchy as the band's previous work and I needed more time than usual to digest the album.
Eventually, the true brilliance of what Fell Voices does revealed itself to me yet again in blinding revelatory streaks of light or something and I realised that the Americans had conjured yet another awesome work of majestic, ambient, Cascadian Black Metal. Glad they have resisted the urge to sell out…
While I don't consider 'Regnum Saturni' to be Fell Voices' best work, it is nonetheless well worthy of its place in one of modern-day Black Metal's most impressive discographies.
Evilometer: 555/666