FHOI MYORE – FHOI MYORE (Ancestrale Production)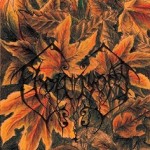 The colours and artwork may be far-removed from the beloved traditional Black Metal clichés, but Fhoi Myore thankfully don't bother with any progressive or post-BM arty-fartiness on their debut full-length. Instead, we are treated to 51 minutes of blasting, raw blackness that deserves a front cover closer to 'A Blaze In The Northern Sky' than this flat-Fanta-coloured autumn leafiness!
Screeching lyrics, pummelling drums and rabid guitars with an abundance of wicked melody wrapped within a low-profile production are the order of the day on a self-titled album that could one day be hailed as something of a classic (by some). Refreshing in its directness, 'Fhoi Myore' rages insatiably from start to finish, with a modicum of respite provided by instrumentals 'Drum & Horn' and 'The One-Eyed'.
A tour de force, an exhibition, a demonstration … call it what you will … but either way this album is a damn fine slab of Black Metal that puts most of the subgenre's big names to shame. It's not perfect but it still represents a pleasant surprise.
Evilometer: 444/666