FLAGELLUM DEI – ORDER OF THE OBSCURE (Pestilence Records)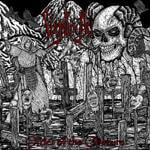 I've never been to Portugal but I believe it to be a sunny territory – you wouldn't think so from listening to Flagellum Dei's third full-length 'Order Of The Obscure'! I suppose it's time we rid our minds of the contention that frozen, desolate landscapes give rise to the best Black Metal; that's no longer the case, necessarily.
The subgenre has become immune to geographical factors. With bands like Irae, Defuntos, Morte Incandescente and the incredible InThyFlesh, the Portuguese have proven that they can grim it out with the best of them and Flagellum Dei is another dank entity worthy of respect.
'Order Of The Obscure' delivers 40+ minutes of intense, searing, chaotic Black Metal with more that enough variety to render it a compulsive repeat listen. One of the first things I noted was that it had a proper Intro (a rarity in BM these days), which sets the tone brilliantly for the onslaught to follow and frenetic tracks like 'Conjures Fire' and 'Inferno Em Mim' made an immediate impression on me. This is genuine blackness, full of anger, hate and passion.
Fuck, they can even get away with using some clean-ish vocals, such as on the title track – a devilish, diverse workout of diabolical darkness and undoubtedly one of the best Black Metal songs you're going to hear this year (or what's left of it). The hymns are all reasonably short apart from epic, seven-minute centrepiece 'Necropolis', an emotional, emotive, disturbing journey through the darkest recesses of the heart, soul and mind; an offering that confirms Flagellum Dei's status as a real underground force.
The inclusion of a second instrumental – the creepy 'From The Dark Light…' – breaks things up perfectly and adds further to the tremendous sense of (foreboding) atmosphere prevalent on this magnificent nine-part collection, while the thrashing 'Ossadas' carries enough venom to rip your face off.
In short, you couldn't possibly regret buying this.
Evilometer: 555/666