GGUW – GEGEN GRAVITATION UND WILLENSFREIHEIT EP (self-released)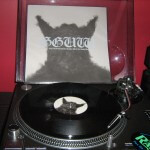 While I'm normally not mad gone on reviewing EPs, I'm quite happy to make an exception for 'Gegen Gravitation und Willensfreiheit', the debut release from mysterious German outfit GGUW. The (obvious) downside of this record – which is limited to a mere 321 hand-numbered copies – is that it's only 13 minutes long, comprising three untitled sharp blasts of raw, primeval Black Metal. Not much for a 12″!
The upside is that the distorted, insane, harsh, haunting, dissonant black noise on this disc is of the exceptional variety, more than whetting the appetite for any full-length or future endeavours that may surface from GGUW. The vocals are of the high-pitched, screeched-from-the-bowels-of-hell variety, complementing perfectly the barrage of black chaos conjured by the shredding strings and crushing drum sounds.
'Gegen Gravitation und Willensfreiheit' impressed me greatly. It's just a real pity there's so little of it. Still, it's a welcome and effective calling card that hints at future greatness. Or does it? Tragically, the band's guitarist Wolfrano reportedly took his own life at the beginning of this month, so I'm not sure how much this undoubtedly-substantial loss is going to fuck up the band's future plans. Perhaps, they will soldier on in his honour but, for now, the only guarantee you have of owning one of GGUW's releases is to get your hands on this – the one and only recording from the original line-up.
Evilometer: 555/666