GRAND BELIAL'S KEY – MOCKING THE PHILANTHROPIST 2LP (Drakkar Productions)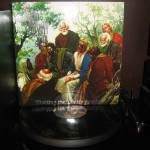 Last year, Drakkar reissued all three Grand Belial's Key full-lengths on CD, cassette and vinyl formats. A cash grab? I don't think so. The vinyl editions – which are probably almost sold out by now – are particularly expensive but they are of a very high quality. The time, effort and passion that went into making these fantastic albums available again on black wax cannot be measured in monetary terms.
Including postage, all three albums – five records in total (as both this one and 'Kosherat' are doubles) – set me back a whopping €90. Obviously this isn't for everybody as prices like this are borderline bankruptcy in the current economic climate. However, if you are one of the lucky ones who has a few extra quid in your possession, then these reissues are definitely worth owning.
I'm reviewing 'Mocking the Philanthropist' as it's my favourite Grand Belial's Key release. This first saw the light of day in 1997 and it arrived as a noxious dose of foul fumes – arguably the first landmark American Black Metal album. It's over an hour long, is devilishly disrespectful and represents a real fist in the face of Christianity. 'MTP' may seem tame in the modern world (and also compared to its even-more-obscene successor, 'Judeobeast Assassination') but back in the day, this was fucking shocking stuff.
I love the artwork on all Grand Belial's Key albums, which comes into its own on 12×12 gatefold covers, and I applaud Drakkar for the fantastic job they have done in resurrecting these historic albums in such glory. I'll admit that the music does show its age just a little bit at times, but this is an observation more than a criticism. All in all, this is a stunning album, presented here in its ultimate guise. The only drawback is the price of admission but I genuinely feel this is down to the high cost of producing such a quality product rather than any sort of profiteering.
Evilometer: 666/666