GRIFTESKYMFNING – LIKPSALM 2LP (Mordgrimm)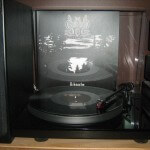 I was so impressed by Grifteskymfning's 'Demo 08' record that I decided to complete my collection by acquiring their other two vinyl releases – 'Djävulens Boning' and 'Likpsalm', the former being the only one recognised officially as a full-length and the latter apparently another demo (ha!), presented here in sumptuous double LP format by UK label Mordgrimm.
At two minutes shy of an hour, 'Likpsalm' certainly represents value for money and I have to say this pair of records packs a real punch. It states inside the gatefold sleeve that the music was recorded on a tape recorder in the Northern woods of Sweden in 2010 … thankfully it's not quite as random / messy as this promise / threat or fact / exaggeration might imply!
Everything that an advocate of occult underground Black Metal craves is contained in spades on this album: 'Likpsalm' sounds ancient and distant and it's cloaked within an eerie, shimmering atmosphere; the (un)production is organic; there's a grim rawness to proceedings (haunting, slow- to mid-paced), complemented and embellished by a devilish sense of ambience. In short, here's one of the most authentic and essential exhibits of nocturnal, obscure Black Metal that you will find anywhere.
Fantastic stuff – probably one of the best albums in my possession, actually –  but limited to 300 copies. So ends my latest broadcast of Grifteskymfning propaganda. And, no, I am not in the band…
Evilometer: 666/666