HAT – VORTEX OF DEATH (Abyss Records)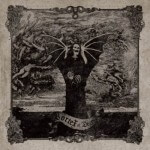 One thing that's clearly working against Norwegian Black Metal duo Hat is the name. It may mean hate in their native tongue but here in the English-speaking world hat will always and forever be the yoke you use to keep your head warm. Or to be a cool fuck. Either way, Hat isn't a great name for a Black Metal band. Or any band, for that matter. Pity about the unfortunate handle as I really enjoy their music.
Debut 'The Demise Of Mankind' surfaced in 2009 and is highly impressive; this second full-length followed in 2011 and is also pretty damn fine. 'Vortex Of Death' delivers circa 45 minutes of well-thought-out, modern-sounding, sinister BM with a truly stellar sound and an organic feel. Right now, I'm struggling for superlatives (a combination of writer's block and retardedness) so I'll simply tell you that I've listened to this album countless times since purchasing it and, truth to tell, 'Vortex Of Death' never bores me.
Arguably one of Norway's best-kept secrets, Hat may have a shite name but if you can get past that admittedly-significant stumbling block (first impressions, cognitive imagery and all that…) there's a treasure trove of quality music to be found on both their albums. And last time I checked Abyss were practically giving this sumptuous digi CD away!
Evilometer: 555/666