HELL MILITIA – HOLLOW VOID (Season of Mist Underground Activists)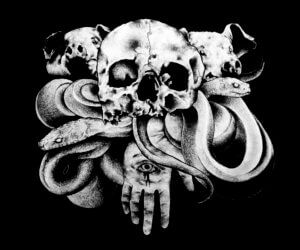 Despite a significant overhaul in personnel and a silence that lasted a decade, Hell Militia returns with a fourth full-length that's every bit as intriguing and enjoyable as the preceding three – if not more so. 'Hollow Void' connects hammer to nail from the off, 'Genesis Undone' and 'Dust of Time' proving a punishing and decadent pair of early offerings … foul, depraved and dripping of filth, just like Black Metal always should be.
The oftentimes corrosive vocal protestations of RSDX enhance the music greatly, particularly diabolical and ghoulish across fourth incantation, 'Within the Maze', where the crude maestros of Hell Militia weave their woebegone misery and dejection more potently perhaps than anywhere else on 'Hollow Void'. It's a wonderfully-crafted album, worthy of the necro tag but simultaneously infectious and catchy and memorable as a fist to the face.
The title track lies at the heart of the work and is a delirious detonation of wild riffs, barbaric drums and caustic vocals, a vortex of darkness conjured from the blackest void. Yet it worms its way insidiously into the subconscious and sounds better with each subsequent listen. Therein lies one of the major successes of Hell Militia's long-awaited fourth LP; they seem to have honed and perfected the tricky art of composing Black Metal songs that demand to be remembered. Nowhere is this more apparent than on the utterly mesmerising, meandering, murderously powerful parting shot, 'Corruption Rejoice'.
The pace fluctuates from one track to the next – and often multiple times within songs – and this adds a welcome degree of richness and diversity to proceedings whilst Hell Militia always remain true to their sordid roots. The tone is invariably heavy and oppressive, leaving one in no doubt that the message on 'Hollow Void' comes from the darkest corner of the psyche and is intended for like-minded souls only. A triumphant return from a horde I had almost forgotten about.
Evilometer: 666/666