INSANE VESPER – ABOMINATION OF DEATH LP (Obscure Abhorrence Productions)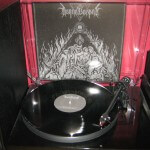 So Insane Vesper's debut full-length gets the vinyl treatment from Obscure Abhorrence and it's immediately apparent that label head honcho Andreas has done a superb job with this wax edition, more than doing justice to the wonderful songs contained withon. Good solid, sturdy cover (seems to be made of different cardboard than usual?); poster; lyric sheet; and a noble (as they say in the industry) record. Ten out of ten for the professionalism of the presentation.
As for the actual music – which, of course, is of primary importance – well, I am certainly a fan of this French four-piece, who have been plying their trade for a decade already, making sure they had honed their craft before delivering an album on the discerning populace at large. The result is suitably impressive – a collection of tunes that stands toe-to-toe and shoulder-to-shoulder with the best the genre has to offer.
Instrumental opener 'Suscipiat Daemone …' sets the tone in suitably-evil and –eerie Omen-esque fashion and the three subsequent killer 'songs proper' on Side A remain interesting for their full duration(s). Ditto Side B. Mid-paced, menacing Black Metal that just bounces along confidently and organically, 'Abomination Of Death' commands your full attention and rewards in abundance. Thoroughly enjoyable stuff.
Okay, this is clearly not the most-ambitious or ground-breaking music you're going to encounter this side of the apocalypse (how many times have we said that?) but it is nonetheless reassuringly solid Black Metal performed with conviction, integrity and no-little-skill. With some nice touches of variation scattered sparsely throughout the mix, Insane Vesper's debut is a thrilling dark voyage and an all-out winner on all fronts.
Evilometer: 555/666