KADOTUS – VAIENNEET TEMPPELIT LP (Blut & Eisen Productions)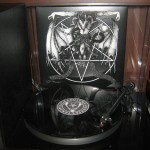 Many of you will construe this as a strange / illogical review seeing as I make it clear from the off that there is nothing spectacularly brilliant about 'Vaienneet Temppelit' … and then proceed to recommend it unconditionally. While this is by no means an amazing album, it is nonetheless wholly effective in the manner in which it conjures the dark atmosphere and genuine sense of evil so essential to Black Metal.
Nothing ground-breaking at all taking place here; nothing new; nothing ambitious; and very little variety (apart from subtle pace changes, perhaps). So why should anyone purchase this? Because, on their second full-length, the Finns have produced 40 minutes of great, organic, old-style, buzzing, nasty, Satanic blackness with the right vibe.
'Vaienneet Temppelit' is a good, solid Black Metal record and the vinyl edition – which sure was a long time coming! – is pretty cool as it is housed within a gatefold cover with lyrics printed on the inside as well as an evil band photo (childish but important). Kadotus perform decent but hardly mind-boggling Black Metal – sure that's why we're here at the end of the day. A satisfying fix (even if I do profess to have heard it all before).
Evilometer: 555/666