KAEVUM – NATUR LP (Darker Than Black Records / Sabbath's Fire Records)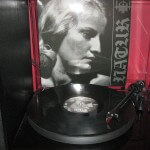 This was released last year but I only discovered it a month or so back. Glad I did because 'Natur' is a really cool underground Black Metal album, even if it does clock in a tad on the short side at barely over the half-hour mark. Thirty minutes does not a full-length album make, in my book.
The intolerant Norwegians manage to squeeze plenty of atmosphere and gloom into their dark template, the second track 'La Mitt Rike Komme' being a prime example of this. Generally, however, the music is very simple, almost garage-style BM, coarse and old school, loaded with a genuine we-don't-give-a-flying-fuck attitude.
There's something undeniably appealing about Kaevum's total lack of charm and subtlety. Their abrasiveness, uncompromising approach and indefatigable spirit render 'Natur' an interesting and oftentimes rewarding experience. Nasty and irreverent, raw and unforgiving, but with the slightest hint of variation, this is something of a hidden gem for those more attuned to menacing vibes than stellar production techniques.
A nice record to have and to hold; pity it's not longer (the album and the review).
Evilometer: 444/666