KVALM – DEMO 2012 (Atavism Records)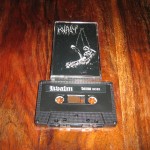 For a demo, this cassette is quite impressive. Over the course of 30 minutes, French duo Kvalm dish out five tracks of searing, under-produced Black Metal plus the almost obligatory intro and outro. Kvalm is the Norwegian word for nauseous and I suppose that fact alone could spark all kinds of debates as to whether they sound more French or Norwegian. Me, I don't give a fuck either way – I've never really been able to detect such subtle differences. Black Metal is universal-ish to my poor ears.
Anyway, the music on here is rough and ready, harsh, discordant and aggressive. It sounds like it was recorded live in a garage or shed. Wait, it probably was. Clearly, 'Demo 2012' isn't going to change the world or send shockwaves through the underground. But it's still an interesting excursion that hints at greater things to come. Some of the musicianship is noticeably ambitious (in a refreshing way) and I'll definitely be interested in seeing what Kvalm conjures next.
Evilometer: 333/666