LUNAR AURORA – HOAGASCHT (Cold Dimensions)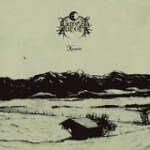 Five years have passed since Lunar Aurora produced one of the greatest Black Metal albums of all time – the criminally under-rated 'Andacht'. I think the band split up shortly after that one was released and I feared I'd never hear from the brilliant Germans again. Then, out of the blue, I heard that 'Hoagascht' was imminent. Naturally, my expectations were high. Unsurprisingly, they have been met. The ninth album from this inimitable Bavarian horde is exceptional.
Whyrhd and Aran have sculpted a full-length that effortlessly confirms LA's status as one of the great Black Metal forces. Okay, it may not be quite as essential as its predecessor but 'Hoagascht' is still a spellbinding, mesmeric slab of occult Black Metal, with a freezing, forlorn atmosphere and enough genuinely spooky atmospherics to remind me why I fell in love with the subgenre in the first place. 'Hoagascht' epitomises what Black Metal is all about – eerie, majestic, despondent, epic, uplifting, emotional and so, so alien and otherworldly.
The first listen threw me somewhat, especially the ambient start to the opening track, 'Im Gartn', but the more I digest the album as a whole the more I appreciate its undeniable grandeur. 'Nachteule' and the frostbitten 'Sterna' will send shivers down your spine and through your soul, primitive, hypnotic, and 'Beachgliachda' is a pagan, shamanic invocation that puts Blood of the Black Owl to shame.
'Håbergoaß' is a desperate, almost triumphant mantra that does justice to the Upper Bavarian dialect used throughout, again demonstrating a remarkable understanding of dynamic, though it must be said Lunar Aurora are leaning more towards melodic than raw Black Metal  on the fifth track (and, indeed, much of the album), But they do it so well…
During the course of 'Wedaleichtn', ominous chimes remind me that the sands of time are running low. Twin terrors 'Geisterwoid' and 'Reng' see out proceedings in typically grim fashion, perfect companion pieces for the sparse, abject artwork that accompanies this pretty amazing album. It's fair to say that Lunar Aurora have evolved considerably since falling silent five years ago. The subtle change in direction makes their return all the more triumphant.
Evilmoeter: 666/666