MIRKHALL – LIKE WOLVES – LIKE HEATHENS (Dark Adversary Productions)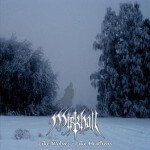 For a relatively-unknown entity, Mirkhall is quite the phenomenon! The brainchild of one Gand (AKA Shatraug of Horna, Sargeist and Behexen infamy), with the services of Blackheart (Drowning The Light, Atra) enlisted on keyboard as well as Nox (some other bands) on drums, the now-defunct Mirkhall doled out some fantastic pagan / heathen Black Metal that clearly merited a larger audience than they managed to attract. Isn't it always the way?
On 'Like Wolves – Like Heathens', Mirkhall pays fitting tribute to Poland's seminal Temple of Fullmoon movement. Seven songs, almost 38 minutes' worth of melodic underground multi-national Black Metal that surely won't disappoint you. This was released in the middle of 2012 and is limited to 500 copies. Many of those will be gone by now but there should be plenty left seeing as Mirkhall's first and only full-length didn't even threaten to register on the radar.
All in all, a solid mid-paced, unspectacular, decidedly-inoffensive but nonetheless enjoyable album. With cool connections.
Evilometer: 444/666