MONS VENERIS – O SEU TRONO NOS NOSSOS OSSOS (You Are Nothing)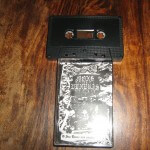 In some ways, it's a real pity that Mons Veneris is so essentially underground. The identity of the band member(s) is unclear and releases – which are at least plentiful – are low-key, scattered, short, limited, random and generally difficult to acquire. There has only been one actual full-length and as far as I know it was only released on cassette. I don't have it.
I do, however, possess an increasing number of splits, cassettes and EPs from the Portuguese act (these appear to be the preferred medium of communication) and I have been mightily impressed by both the style and sheer quality of twisted Black Metal found on most of these. The one we're concerned with here, 'O Seu Trono Nos Nossos Ossos', is a one-sided, three-track cassette and one of the songs is just an intro, so we only get two tunes proper.
Eighteen minutes in total isn't a whole pile to get your teeth into but this tape is inexpensive and should appeal to anyone attracted to the nascent Lusitanian underground or to bands like classic Xasthur and / or The True Werwolf and/ or the majority of Mons Veneris' associated compatriots. Depraved, chaotic, mournful grimness is the name of the game; truly majestic and enchanting despite its brevity.
Evilometer: 666/666