NAPALM DEATH – UTILITARIAN 2LP (Century Media Records)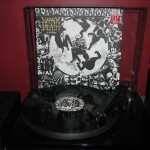 It's almost like the last 25 years didn't happen at all. A full quarter of a century after Napalm Death first reached the ears of an impressionable, angry young man finding his feet in a dull and hostile housing estate in Monaghan, they are blowing me away all over again with their fourteenth studio full-length. Astonishingly, 'Utilitarian' is easily on a par with anything these legendary grindcore innovators have produced during the course of a stellar career. How the fuck do they do it?
Instrumental 'Circumspect' kicks proceedings off in a rather understated, serene-by-ND-standards sort of way before 'Errors In The Signals' and the jazz-infused 'Everyday Pox' quite literally send the speakers cowering. The anger is still there, the rage and the invective all evident as they were way back in the day. And, crucially, the uncanny song-writing prowess that has always separated Napalm Death from their peers (not that they truly have any) remains intact, too, which means catchy, instantly-accessible socially-conscious Death Metal (for that is what it is) of the very highest calibre.
'The Wolf I Feed' brings Side A to a close in thrilling fashion, with incredible trademark screeches and squeals and some Fear Factory-style harmonies that add greatly to the variety on offer. Throughout the 16 tracks on offer over three-quarters-of-an-hour, there exists an incredible amount of variety within that monotonous-to-the-unwary-ear template that Barney, Shane, Mitch and Danny have honed over the years / decades.
At the end of the day,  this is a Black Metal site first and foremost so I'm not going to go into this one in great detail (not that I ever do with any other albums, either, ahem)  but DM has always been a big part of my life and it is only fair to give credit where credit's due: 'Utilitarian' is immense and it proves that middle-aged commentators can mix it up with anyone. Perhaps we are as young as the anger we feel? The injustices of the world will never go away and these are what fuel Napalm Death; so, they are ageless, really.
I sincerely don't expect to find a better album anywhere this year. And the double-vinyl format does the recording huge justice.
Evilometer: 666/666