NASTROND – TOTESLAUT LP (Galgenstrang Productions)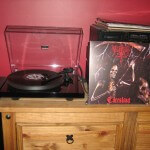 There's an all-too-apparent dearth of quality new releases coming out these days. Perhaps it's just a lull in hostilities or maybe Black Metal has died an indignant death. Time will tell. Anyhow, in the meantime, while I'm waiting for something meaningful to appear, I decided to check out this vinyl reissue of Nåstrond's 1995 debut and I'm glad I did because 'Toteslaut' is certainly a timeless, deathly classic.
The label – an imprint of Funeral Industries as far as I can glean – has done a fantastic job with the record, which looks and feels great in an understated way, complete with the essential original artwork and a well-worn vibe. Prior to acquiring this (together with 'Age Of Fire' on vinyl, also re-issued by Galgenstrang), I was more familiar with Nåstrond's more recent work on Debemur Morti than I was with their legendary back catalogue. My loss, because this is mandatory stuff.
The record comprises unbelievably good, unhallowed old school Black Metal with an ancient sound, wonderful execution, tremendous vocals and the whole thing laced with just enough esoteric moments to render it unique and magical – such as the majestic 'Jai Ma Kali' or the surprisingly short and sweet closing title track. All in all, this is an adequately-powerful and resilient port to tide you over until the storm resumes. That's assuming it ever will, of course.
Evilometer: 555/666