NEBRUS – FROM THE BLACK ASHES (Schattenkult Produktionen)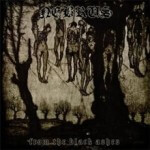 Schattenkult Produktionen is the new name of Selbstmord Kommando Produktionen, a German label I'll admit to having a soft spot for. 'From The Black Ashes' represents their first pro-CD release – seven tracks of evil, old school, deathly, ghastly, Black Metal from Tuscany, Italy. One of the novelty factors of this album is that the vocals are performed by a witch known as Noctuaria. Hate to admit it almost, but they are really good!
Add Nebrus to the tiny number of decent BM bands with female vocalists, then…
Ultimately, it matters not what the sex, race or political leanings of a singer are as long as said singer is good at what they do. In Black Metal, the vocals have to be dark and menacing, gruff or shadowy, mysterious, enigmatic, with a harshness. Nebrus ticks most of the boxes and mercifully there are hardly any clean vocals to be heard on the seven tracks comprising this interesting full-length.
The label blurb claims that Nebrus brings us back to the early 'nineties and this is spot-on. 'From The Black Ashes' sounds like it could have been recorded in a cave in Helvete, in a forest in Hellas or in abyssic solitude on the outskirts of civilisation. Nice ancient feel to the compositions and a very adequate exhibition of some tried and trusted formulae.
There's nothing particularly special about this album and that's what makes it so great in an ironic sort of way. Who wants special music when you can have a blast of good honest, old-fashioned blackness laced with those irrepressible feelings of death and decay?
Evilometer: 555/666