NEMESIS SOPOR – WURZELLOSER GEIST (Der Neue Weg Productions)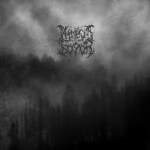 I'm not sure how (or when) this CD ended up in my possession but it's been lurking for a long time in a high tower of barely-listened-to-music that renders my collection much more untidy than I'm comfortable with. Earlier tonight, I decided to give it a proper listen and I'm pleasantly surprised by what was waiting patiently for my attention all this time.
I had no intention of writing a review – just wanted to give it a quick whirl before filing 'Wurzelloser Geist' away in a more orderly manner – but the fare is so impressive I just had to let you know (whoever the fuck you are). Nemesis Sopor is a German collective that knocks out great traditional Black Metal with lots of ambient / atmospheric passages and their debut full-length (and sole release to date) will appeal to anyone who appreciates genuine dark art with a strong dose of honesty and integrity.
We get six songs, averaging around eight or nine minutes each, and classic-Immortal-like fifth track 'Schwingen der Leere' is particularly special. But all the music on this album is superb and I'm confident you'll enjoy 'Wurzelloser Geist' thoroughly if you manage to get your hands on a copy (even under mysterious circumstances).
Evilometer: 555/666