NIGHTBRINGER / DØDSENGEL – CIRCUMAMBULATIONS OF THE SOLAR INFERNO LP (Daemon Worship Productions)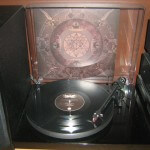 There are some records you simply cannot go wrong with and 'Circumambulations Of The Solar Inferno' is one such effort. Featuring two of the more interesting bands around at the moment, this split LP comprises the most glorious racket to have reached my ears in many's the long year.
I assume from the song titles that this is a concept album of sorts. Either way, we get four songs of occult, esoteric Black Metal of the very highest calibre.
Nightbringer specialise in split vinyls – this is the fourth one to make its way into my collection! – but 'Circumambulations Of The Solar Inferno' represents a first collaborative effort from Norway's finest, Dødsengel. I think any band should be happy to share some black-wax space with them!
The Americans deliver two trademark chaotic swirlfests on Side A, which are fantastic offerings in their own right but not quite as magnificent as what occurs on Side B. Both tracks from Dødsengel demonstrate a remarkable appreciation and manipulation of dynamic; stellar song-writing and execution resulting in a resounding confirmation that Dødsengel  have lost none of the magic that typified 'Mirium Occultum' and 'Imperator' (as well as practically everything else they have put their name to).
In the near-thirteen-minute closer, 'Watchtower Of The South: Drunk Upon Inmost Fire', we are treated to an absolutely monstrous cocktail of fury and panache. Cathartic stuff, indeed. (The record looks amazing, too, with great artwork and all lyrics included.)
Evilometer: 666/ 666